Finally, someone from the mainstream Australian media has called it: Q+A, once one of the more popular shows on the ABC, is really not worth watching any more.
Of course, being Australian, the manner in which this sentiment was expressed was oblique, more so given that it came from a critic who writes for the Nine newspapers, Craig Mathieson.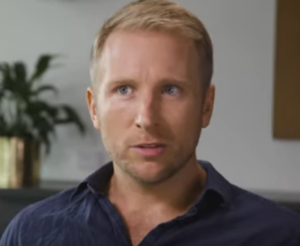 Newspapers from this company are generally classed as being from the left — they once were, when they were owned by Fairfax Media, but centrist or right of centre would be more accurate these days — and given that the ABC is also considered to be part of the left, criticism was generally absent.
A second critical review has appeared on April 5, this time in The Australian.
Mathieson did not come right out and call the program atrocious – which is what it is right now. The way the headline on Mathieson's article put it was that Q+A was once an agenda setter, but was no longer essential viewing. He was right about the former, but to call it essential viewing at any stage of its existence is probably an exaggeration.
He cited viewing figures to bolster his views: "Audience figures for Q+A have plummeted this year. Last week [25 March], it failed to crack the top 20 free-to-air programs on the Thursday night it aired, indicating a capital city audience of just 237,000. In March 2020, the number was above 500,000, and likewise in March 2016," he wrote.
"This was meant to be the year that Q+A ascended to new prominence. Since its debut in 2008 it had aired about 9.30pm on Mondays, the feisty debate chaser to Four Corners and Media Watch.
"In 2021, it moved to 8.30pm on Thursday, an hour earlier presumably to give it access to a larger audience and its own anchoring role on the ABC's schedule. But even with Back Roads, one of the national broadcaster's quiet achievers, as an 8pm lead-in, the viewing figures are starting to resemble a death spiral."
Veteran ABC journalist Tony Jones was the Q+A host until just two seasons ago. Then Hamish Macdonald, from the tabloid TV channel 10, was given the job. And things have generally gone downhill from that point onwards.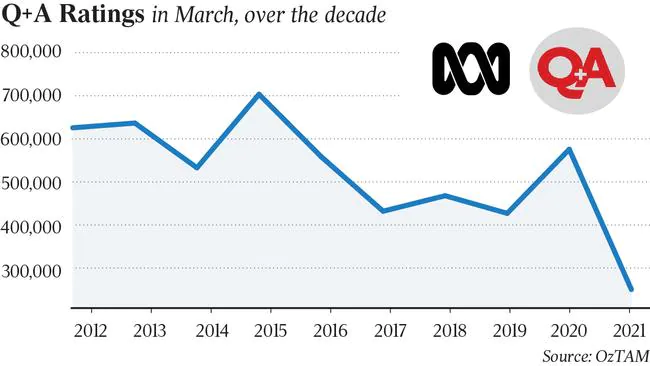 Jones brought a mature outlook to the show and was generally able to keep the discussion interesting. He always had things in check and the panellists were kept in line when they tried to ramble on. Quite often, the show was prevented from going down a difficult path by a simple "I'll take that as a comment" from Jones.
Macdonald often loses control of things. He seems to be trying too hard to differentiate himself from Jones, bringing too many angles to a single episode and generally trying to engineer gotcha situations. It turns to be quite juvenile. One word describes him: callow. It is one that can be applied to many of the ABC's recent recruits.
Had the previous host been anyone but Jones, the difference would not have been so stark. But then even when others like Virginia Trioli or Annabel Crabb stood in for Jones, the show was watchable as nobody tried out gimmicks. Again, Trioli and Crabb are very good at their jobs. The same cannot be said for Macdonald.
Now that Jones has had to put his plan of accompanying his partner, Sarah Ferguson, to China, on ice, the ABC might like to think of bringing him back to Q+A. The plan was for Ferguson to be the ABC's regular correspondent in China, but that was dropped after the previous correspondent, Bill Birtles, fled the country last September, along with Michael Smith, a correspondent for the Australian Financial Review. Jones had planned to write a book while in China.
The ABC needs to bite the bullet and rescue what was once one of its flagship shows. As Mathieson did, it is worthwhile pointing out that two other popular shows, 7.30 and Four Corners, have held their own during the same period that Q+A has gone downhill, even improving on previous audience numbers.
If change does come it would be at the end of this season. Another season of Macdonald will mean that Q+A may have to be pensioned off like Lateline which was killed largely because the main host, Emma Alberici, had made it into a terrible program. Under Jones, and others like Maxine McKew, Trioli and even the comparatively younger Stephen Cannane, Lateline was always compulsory watching for any Australian who followed news somewhat seriously.