As Steve Smith makes his 100th Test appearance at Headingley — the game started at 8pm AEST on Thursday — an attempt is being made to rehabilitate a man who brought Australian cricket into disrepute at Newlands, South Africa, in 2018.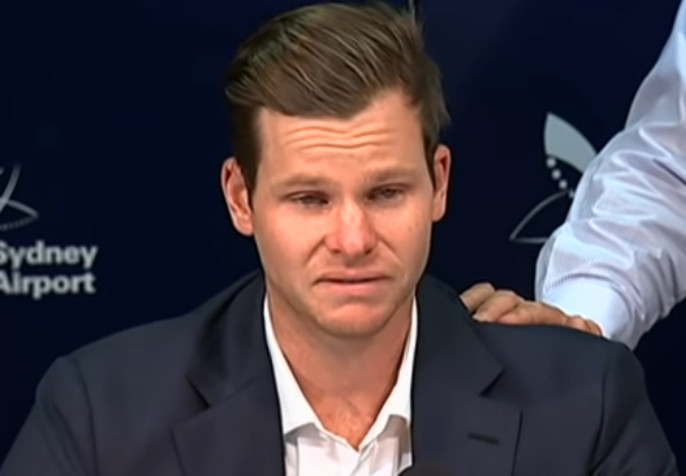 The Australian's Peter Lalor writes that Smith was joking with his colleagues when the incident with Jonny Bairstow in the second Ashes Test at Lords occurred and the crowd started chanting "cheat" at the Australian players.
Apparently, Smith thought the team would now understand how he had felt after the Newlands incident, when Australian Cameron Bancroft was caught on live TV using sandpaper to scuff up the ball.
There's a big difference, a gap as wide as can be, between the two incidents.
That Smith can see some similarity between the sandpaper incident and Alex Carey's stumping of Bairstow is an indication that his perspective about what happened at Newlands is still skewed. He appears to be unable to accept the reality that he presided over organised cheating in order to try and win a Test match.
On that occasion, Smith was part of a trio of cheaters, the third being opener David Warner, so anyone who called him a cheat would only have been speaking the unvarnished truth.
Carey did not cheat in any way; he threw down the stumps when Bairstow left his crease at the end of an over before the umpire had called "over", a call that would have made the ball dead.
People can talk till they are blue in the face about the "spirit of the game", but for many decades now, teams, national or lower down, play only to win. As the financial rewards associated with the game have grown, so too has the desperate urge to win at any, nay all, costs.
That Smith wants to still play a leadership role in the team is evident; there have been times in the first two Ashes Tests where he has tried to pressure the captain Patrick Cummins to call for a review of a decision. Cummins has dismissed some of those bids, once or twice in a contemptuous manner.
The Australian team has suffered greatly because of Smith's inability to lead. After he lost the captaincy, Tim Paine took over, but he came unstuck due to a scandal over lewd text messages. The mantle was then bestowed on Cummins, a thoroughly decent bloke if ever there was one.
Smith may well be one of the better batsmen in the game at the moment. But the fact that he is unable to come to terms with cheating at Newlands in 2018 — and, that too, as captain — is indeed a troubling thing.