Last weekend, Australia's Liberal Party made history by losing a by-election to the government, something that had not happened for more than 100 years.
The seat in question, Aston, in the outer-east of Melbourne, had fallen vacant due to the retirement of the sitting member, Alan Tudge. The two main parties, Labor and Liberal, both put up female candidates.
The Labor candidate, Mary Doyle, obtained 53.62% of the vote, while the loser, Roshena Campbell, won 46.38%.
The Liberal Party is in a coalition with the National Party, with the latter mostly contesting seats in the rural and regional parts of the country.
Having lost two other elections recently — a federal election in May 2022 and the NSW state election in November — one might have expected the Liberals to have gained some understanding of the extent to which voters' thinking and priorities have changed. Alas, such does not appear to be the case. And the following tale bears this out.
As part of the campaigning in Aston, the Liberals sent fliers addressed to the male in all households, signed by John Howard, who was prime minister from 1996 to 2007.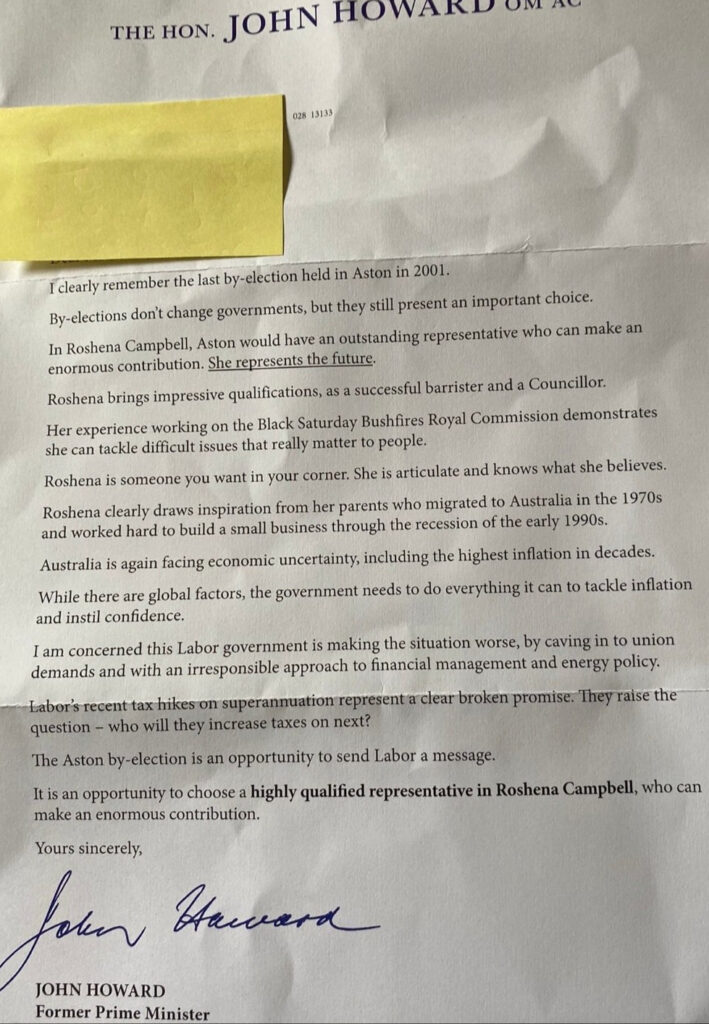 Things have changed a great deal since he was in power; for one, the population mix has changed, as also the extent to which money is available to political parties to influence people to vote a particular way. In Howard's time, the money was flowing in from exports to China; that golden age is now long over.
The appeal which Howard signed is clearly aimed at a traditional family, where the man of the house tells everyone of voting age whom to support.
But Aston — and practically every other seat in the country — has a population that does not conform to this setup. There are loads of single mothers, many gay and lesbian couples, and many young voters from the demographics referred to as Gen Z and Millennials.
Their concerns are not in any way in tune with what Howard's pamphlet appealed to. But the fact that today's Liberal Party even considered that such an appeal would be of any use — as also the fact that they still think Howard is a vote-getter — shows the extent to which they are out of touch with the reality.