Last Thursday [September 15] the issue of time-wasting in international rugby matches was highlighted after a referee changed a decision from a penalty to Australia to a scrum feed to New Zealand, in the last minute of the game.
The decision was taken because fly-half Bernard Foley was taking too long to kick the ball to touch. And following that, even today there are discussions taking place about the amount of time that is wasted during such matches.
Nowhere was the extent of this highlighted better than on the Sky News New Zealand show The Breakdown, a one-hour show that runs on Sunday night.
The graphic below shows the extent of play during the first half of Thursday's game which was the first leg of the Bledisloe Cup. The official time for a half of rugby is 40 minutes; as the graphic shows, the half ran for 51 minutes and 50 seconds.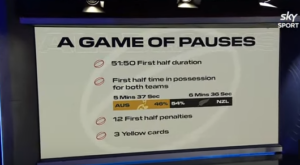 Screenshot courtesy The Breakdown, Sky News New Zealand.
But when it came to possession, actually having the ball in your hands, Australia only had the ball for five minutes and 37 seconds, or 46% of the time that the ball was in the hands of players.
New Zealand had the ball a little longer: six minutes and 36 seconds. That means the total time that the ball was in play was 12 minutes and 13 seconds. Which should shock any fan of the game to the core.
There were 12 penalties in the first half and three yellow cards; the issuing of these would certainly have contributed a great deal to cutting down on the amount of time when players had the ball in their possession.
If this kind of statistic does not push the world rugby authorities to act, then nothing will. Fans who pay full price for a ticket are being cheated and taken for a ride.
It could lead to a drop in crowd numbers – but then may not bother the various rugby authorities as TV revenue does not drop if the crowds are smaller.