The Saturday Paper — as its name implies — is a weekend newspaper published from Melbourne, Australia. Given this, it rarely has any real news, but some of the features are well-written.
There is a column called Gadfly (again the name would indicate what it is about) which is extremely well-written and is one of the articles that I read every week. It was written for some years by one Richard Ackland, a lawyer with very good writing skills, and is now penned by one Sami Shah, an Indian, who is, again a good writer. Gadfly is funny and, like most of the opinion content in the paper, is left-oriented.
The same cannot be said of some of the other writers. Karen Middleton and Rick Morton fall into the category of poor writers, though the latter sometimes does provide a story that has not been run anywhere else. Middleton can only be described as a hack.
Mike Seccombe is another of the good writers and, when he figures on the day's menu, one can be assured that the content will be good. Another good writer, David Marr, has now gone missing; indeed, he is not writing for any newspaper at the moment.
But the one fault line that The Saturday Paper has is that it will never cover the Middle East. The owner, Morry Schwartz [seen below in an image used courtesy of Fairfax], leans towards supporting the right-wing Israeli leader Benjamin Netanyahu and thus no matter what atrocities are being perpetrated on the Palestinians, you can be assured that not even a word will appear in this newspaper.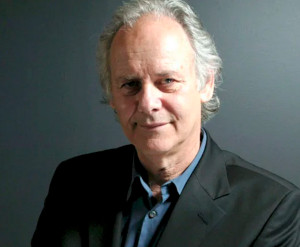 Critics of the paper avoid mentioning this, in keeping with the habit prevalent in the West, of never saying anything that could be construed as being critical of Israel.
This proclivity of Schwartz was noticed early on and mentioned by a couple of Australian writers. One, Tim Robertson, had this to say when the paper had just started out: "…the Saturday Paper's coverage of Israel's assault on Gaza has been conspicuously, well, non-existent. As the death toll rises and more atrocities are committed, the Saturday Paper's pages remain, to date, devoid of any comment."
Explaining this, John van Tiggelen, a former editor of The Monthly (another Schwartz publication) said: "…mean, it's seen as a Left-wing publication, but the publisher is very Right-wing on Israel […] And he's very much to the, you know, Benjamin Netanyahu end of politics. So, you can't touch it; just don't touch it. It's a glass wall."
Australian media are very touchy about Israel. One of the country's better writers, Mike Carlton, lost a plum job with the former Fairfax Media — now absorbed into the publishing and broadcasting firm, Nine Entertainment — when he criticised Israel over one of its attacks on Gaza.
And some supporters of Israel in Melbourne are quite powerful. Fairfax had — and still has — a rather juvenile columnist named Julie Szego. When one of her columns was rejected by the then editor, Paul Ramadge (the staff used to say of him, "Ramadge rhymes with damage"), she ran to Fairfax board member Mark Leibler and requested him to intervene. Hey presto, the column was published.
Of course, it is the prerogative of an editor or owner to keep out what he/she does not want published. But if one is given to describing one's publication as a newspaper and then ignores one of the world's major issues, then one's credibility does tend to suffer.